Many of us consider carpeting to be the epitome of design versatility, and we're far from wrong. Carpeting is currently one of the most popular flooring options for both residential and commercial interiors, with more options than ever before. With so many colors, patterns, and textures to choose from, modern carpeting is also applauded for its lack of limitations. Indeed, there are now even carpet options offering water-resistance, stain-resistance, and heavy-duty construction.
At Barry Neal Carpet One in Altamonte Springs, Florida, we're committed to finding perfect soft-surface solutions for all settings and needs. We understand that life can get complicated, making it all the more important to choose your carpet wisely. Here are some things to bear in mind as you shop carpeting.
Types of Carpet
Today there are carpet options as unique as your household. However, your first step in this journey means becoming familiar with the various carpeting types. Maybe you need a carpet that can handle the havoc of your new puppy or teething toddler? Or, perhaps you need something to insulate against noise? Whatever your needs, carpeting has your solution. Carpeting is available in various types, with options including level loop, patterned, textured, frieze, and plush carpeting. One might choose textured carpeting to disguise frequent footprints; a level-loop carpet, on the other hand, offers a smoother, more streamlined appearance.
About Carpet Fibers
Carpet fibers play an important role in your new floor's performance and can be synthetic or natural. Each carpet fiber offers its respective perks and challenges. Synthetic products like nylon are prized for their sturdiness and softness. Wool fibers, with their natural materials, are known to not easily fade from sun exposure as well as their warmth, sturdiness, and ability to repel mildew.
Nylon carpet is composed of sturdy synthetic fibers, which are renowned for their superior strength and softness. Although pricier than other types of synthetic carpets, nylon has wonderful staying power that makes it a favorite for both commercial and residential spaces.
Triexta carpet is one of our toughest carpet families. This seriously strong synthetic can take on whatever the day throws at it: stains, foot traffic, furniture, and more. Its rough texture disguises dust and dirt, making it a commercial favorite.
Olefin/polypropylene carpet is one of the softest synthetics available. Woven into intricate patterns, olefin rugs are as beautiful to look at as they are to touch. However, this type of carpeting is made for luxurious looks rather than resilience, and is therefore best reserved for low-traffic, formal spaces.
Wool carpet is crafted from natural fibers that are exceptionally strong, durable, and hypoallergenic. Woven from sheep shearings, these carpets retain color, resist mildew, and are flame-resistant – perfect for a bedroom or living room carpet.
Pile Types
In addition to the type of fiber, there are also a variety of pile styles. You can choose a low, medium, or high pile carpet. Low pile constructions are common for high traffic carpets or office carpets because they are easy to clean and fast-drying. Dust and debris doesn't get lodged as deeply in the fibers as with a high pile or plush carpet option. You'll also find loop, cut-loop, and cut pile carpets. Loop piles are rewoven into the backing, while cut piles are sliced at the end. Cut pile carpets feature a mixture of both styles for a varied and dynamic look.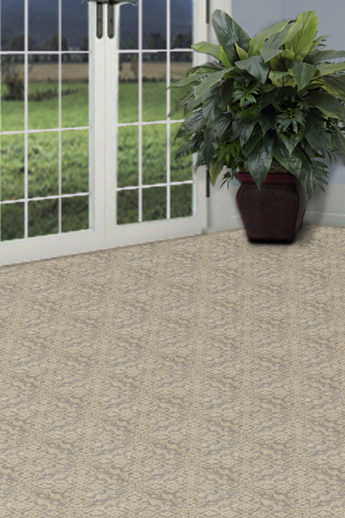 Patterned Carpet
As the name implies, patterned carpets are noted for their unique surface patterns. These patterns can be simple or intricate, and they can be colorful or plain. Patterned carpets contrast flatly with traditional carpets, which have uniform surfaces. With so many design options available, pattern carpets can pretty much accommodate any home setting you have in mind. Patterned carpets are more popular in smaller areas such as bedrooms because they can make these areas seem larger. Also, you'll need to make sure that your new patterned carpet fits well with any furniture, wall coverings, and window treatments.
Patterned carpets, because they offer unique styles, are perfect for area rugs. In fact, we can cut any patterned carpet into an area rug that can be layered over a hardwood floor. We have quality patterned carpets from Kane Carpet and Stanton Carpet. Kane offers one of the industry's largest selections of patterned carpets, including styles such as Grand Dunes and Murcia (pictured below). Stanton, too, offers a wide selection of pattern carpets that are considered design-focused.
Where to Install Carpeting
Do you have your heart set on new carpeting? Carpeting offers up options for almost every room in the home, although it should generally be avoided in the bathroom or kitchen. Choose your carpeting carefully, as different types fare better in different spaces. A durable, stain-resisting carpet would be a good pick for the kids' playroom, your family room, or your stairway. For the master bedroom, where comfort is key, and there's minimal foot traffic, consider a soft plush carpeting that you can sink your bare toes in.
Our Carpeting Collection
As proud associates of Carpet One Floor & Home, the world's largest independent flooring cooperative, we're proud to be your one-stop source for all things carpeting. As exclusive members of this small business network, we can share with each client our amazing purchasing power, friendly services, and great prices. We carry many of your favorite carpet brands, including LEES, Tigressa, Kane, Masland, Stanton, and more. A patterned carpet, with eye-catching surfaces and instant style, is one of our specialties. To learn more about carpeting or to check out our latest product displays, visit us today at 1063 Miller Drive in Altamonte Springs, FL.